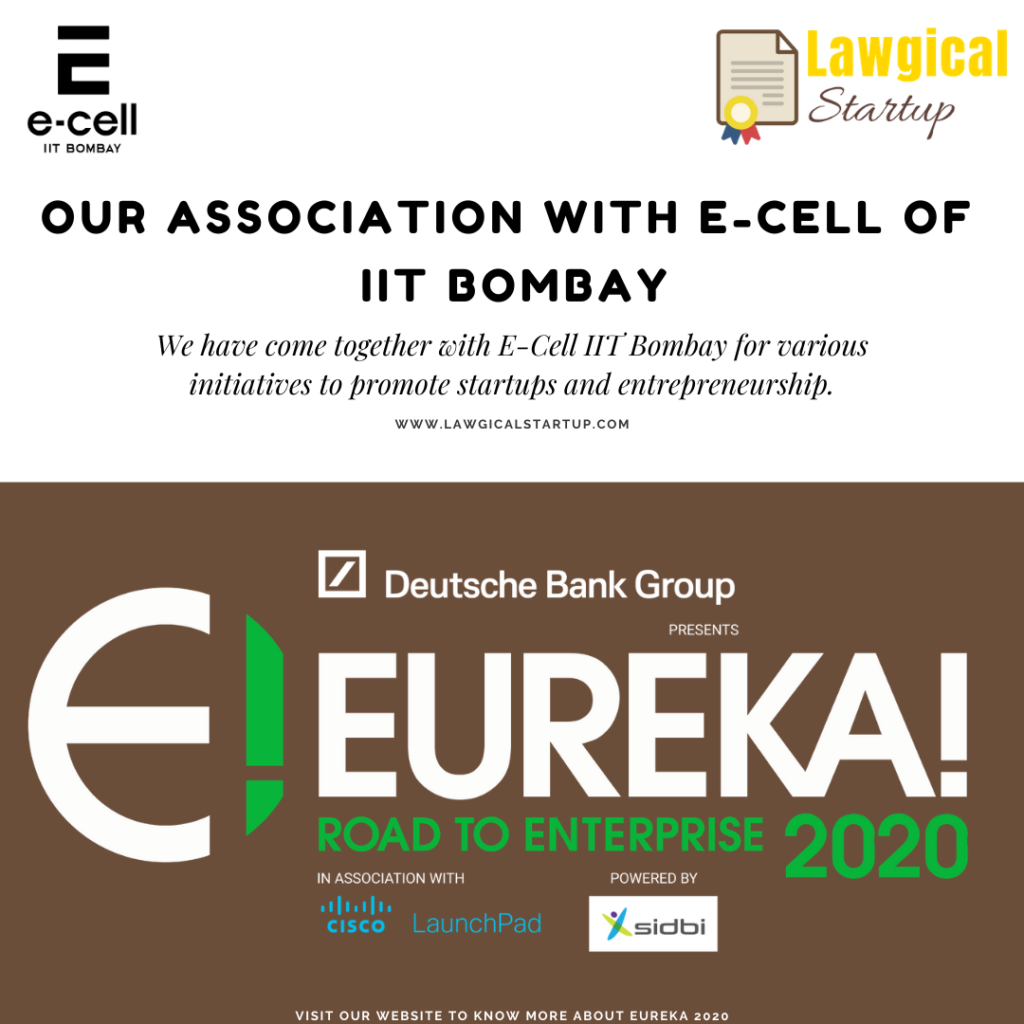 We are excited to share with you that we have come together with the Entrepreneurship Cell of IIT – Bombay (E-Cell IIT – Bombay) with a shared vision of promoting the Startup Eco-system and enable the Youth to take up challenges and establish impactful organisations.
We at Lawgical Startup, focus on assisting early stage startups and young businessmen by contributing to their entrepreneurial journey and enabling them to focus on building their dream startup and letting all the messy documentation and legal work on us. As we all see, many young entrepreneurs tend to struggle with legal complexities, due to lack of knowledge and unavailability of reliable service providers at an affordable cost. We always make sure our services are offered at affordable cost and always turn out to be a value addition for our clients.
With a same vision as E-Cell IIT Bombay we are happy to collaborate with them and look forward to being a value addition in the overall journey of every entrepreneur via our services. The E-Cell IIT Bombay has launched many initiatives recently in order to help the startups and aspiring entrepreneurs of the society and have approached us to partner for two of such initiatives, highlighted below;
Startup Services Platform strives to bridge the gap between the entrepreneurs and various capital-intensive services and consultancies that a startup needs in its early stage.
Lawgical Startup is an exclusive partner of E-Cell IIT Bombay for all kinds of legal, secretarial and financial services as a part of SSP initiative.
Eureka! is Asia's largest B-Model competition held by E-Cell IIT Bombay accredited independently by CNN and Thomson Reuters. Over the 21 years of its existence, teams registered for Eureka! have been competing for prizes worth INR 5 Million at stake with excellent networking opportunities in India and the Silicon Valley!
"Eureka!" is a 5-month long holistic experience. Tutelage is provided in and out, right from writing a 'Business Model Canvas'(BMC) to drafting a 'minimal viable product'. It is a competition of 11,500+ entries fighting for INR 5 million.
It is conducted via the following phases:
Registration: The registration portal has launched on 6th September. The participants have to fill a questionnaire (fully) before 17th October 2020. Any discrepancy in the registration process is tantamount to being disqualified.
Online Mentors' Meet: Once the semi-finalists are declared, they are invited to attend an online mentoring session. This session consists of various events such as Pitching, Lean Startup Methodology, and the semi-finalists get to e-meet mentors from their specific sectors.
Pitching: All the finalists pitch their startup in front of the esteemed "Eureka!" Jury, which consists of investors, businessmen, and professionals.
Lawgical Startup is a Gold Partner of E-Cell IIT Bombay in happening of Eureka B-Model Competition.
To know more about the initiatives or participate, please feel free to email us at info@lawgicalstartup.com or call us at 8454 989 789 or click here.